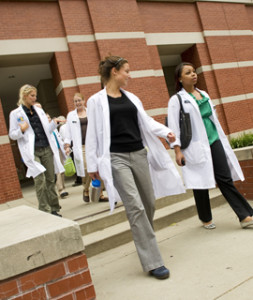 With an increase in the Baby Boomer population, healthcare remains one of the fastest growing fields in the United States. Although nurses perform the same job in every location, different metropolitan areas offer higher pay rates. To get the highest median pay in the profession, nurses should apply for jobs in the following five areas.
1. San Jose-Sunnyvale
Encompassing the cities of San Jose, Santa Clara and Sunnyvale, this metropolitan area is home to the world famous Silicon Valley. With so many technology startups and world-class companies in the region, the wages and cost of living in the valley are higher than in most places. The average salary of a licensed practical nurse in the area is $57,150, and a registered nurse earns an average of $110,080. Home to a thriving food culture and colonial architecture, the San Jose-Sunnyvale area is a great place to live as long as you find an affordable apartment.
2. San Francisco-Oakland
Tourists come to the San Francisco-Oakland area from around the world to take a tramway ride or experience exquisite cuisine. Boasting one of the longest histories of any city on the West Coast, this region is also home to an impressively high average wage. Registered nurses make an average of $98, 020. Meanwhile, licensed practical nurses bring in $57,050. Additionally, there are an estimated 32,700 job positions for nurses in the region.
3. Sacramento
Home to California's seat of government, Sacramento has a total of 13,130 available. In 2002, Time Magazine named this capital as "America's Most Diverse City". Started during the Californian Gold Rush, Sacramento quickly grew to become California's sixth largest city. In addition, it is home to a branch of the California State University and the UC Davis Medical Center. Nurses in the area earn an average of $89,770 as registered nurses and $53,630 as licensed practical nurses. Available nursing jobs in the area are estimated to be at 13,130.
4. Modesto
Another city placed within California, Modesto is known for being one of the birthplaces for modern rock music. The economy is primarily based on agriculture due to the county's status as the sixth-highest earning agriculture county in California. Meanwhile, the largest employer in the city is Memorial Medical Center with 3,023 employees. Licensed practical nurses can expect to earn $50,510 and registered nurses make $89,590 annually.
5. Boston
As the only city on this list outside of California, Boston, Massachusetts, is a notable exception to the rule. Located on the East Coast, this city is home to some of the world's best lobster restaurants and scenes from the American Revolution. In modern times, it is a mecca of colonial architecture, top museums and higher education. Registered nurses in the area earn an average of $88,730, and licensed practical nurses make $49,320 annually. Within this metropolitan area, there are a total of 44,310 nursing jobs.
Cities with major medical centers and universities often have more nursing jobs available. This fact is clear from the tendency of cities on this list to be placed near top schools and hospitals. Boasting of impressive wages, these metropolitan areas are the best places for nurses to work within the United States.
Source: http://www.bls.gov/home.htm