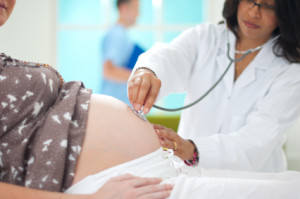 According to the Bureau of Labor Statistics, nurses make up the largest workforce in the healthcare industry, and the demand for nurses will continue to rise in the future. As medical science continues to advance, the nursing field will become more complicated, creating numerous opportunities for specialization.
Any nursing job will be challenging, rewarding and provide you with plenty of opportunities to make the world a better place. However, by choosing a specialty nursing career, you'll be able to focus on the areas of medicine that fascinate you most. Some of these nursing career options require additional education, but it will likely pay for itself over time.
1. Nurse Practitioner
Much like doctors, nurse practitioners (NP) are trained to provide basic health services to patients throughout their lives. They give health exams, coming up with a diagnosis, doing treatments and sometimes prescribing medication for their patients. Many people think of NPs as doctors, because they often serve as primary care providers in areas where there aren't enough doctors to handle the patient load. While they aren't doctors, they are skilled in many areas of healthcare, and among the highest paid of all specialty nurses. The average salary for an NP is $79,000.
2. Nurse Case Manager
Nurse case managers oversee patient care and monitor how cases are progressing. Their main job is to find cost-effective treatments and medications that will work with the patient's insurance provider. Case managers are often employed by the insurance company itself rather than the hospital or medical practice. If you enjoy being part of the medical world without handling the aspects of nursing that are up close and personal, going for a case manager position might be best for you. Case managers make about $69,000 a year.
Related: 5 Time Management Skills Every Nurse Should Possess
3. Nurse Researchers
Becoming a researcher is another way to be part of the medical field without taking on a basic nursing job. Rather than working directly with patients, nurse researchers study various aspects of medical science. If you're fascinated with the idea of planning and carrying out studies, collecting data, performing analysis and creating reports, then a career as a nurse researcher might be perfect for you. Researchers typically earn about $95,000 a year.
4. Nurse Midwife
Those who love all aspects of pregnancy, family planning and childcare will love a career as a nurse midwife. Midwives help with pregnancy, labor and delivery, and there are a variety of options for work within this highly specialized field. You can open a private practice, visit patients in their homes or work in a large hospital or clinic. Being a nurse midwife is a very rewarding job, most suitable for those who love working face to face and getting to know their clients in a personal way. You will make a big impact on individual lives by choosing this nursing specialty, which will earn you about $84,000 a year.
5. Certified Nursing Anesthetist
A nursing anesthetist assists and provides anesthesia while under supervision of a anesthesiologist. If you like the idea of helping patients stay safe and healthy during surgery, and you're willing to earn your master's degree in a qualified nursing anesthetist program, you'll be earning yourself a lucrative $153,780 a year.
These are only a few of the possibilities when it comes to specialized nursing fields. While income is certainly an important factor, be sure to choose a specialty that you'll enjoy. Nursing requires a lot of heart, and you'll make more of a difference in people's lives if you choose an area you feel passionate about.a year.